250px in max
name of the character
Date of Birth
character's date of birth
Date of Death
character's date of death
Gender
character's gender
Height
character's height
Race/Ethnicity
charater's race
Occupation
character's occupation
Marital status
character's martial status
Relative(s)
character's relatives
Status
character's status
Write a headline here
Edit
Carnage Blood Is a Powerful Red Symbiote controlled . He is able to summon spikes to shoot out of him. He has supiroer healing ablitiys.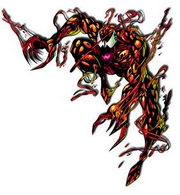 Ad blocker interference detected!
Wikia is a free-to-use site that makes money from advertising. We have a modified experience for viewers using ad blockers

Wikia is not accessible if you've made further modifications. Remove the custom ad blocker rule(s) and the page will load as expected.